I donut cut wrestling singlet, includes custom text
Singlet Superstore offers high quality sublimated singlets. This singlet includes a custom text area, no minimums, no art or set up fees.
WHAT IS SUBLIMATION?
sublimation is a process that dyes the uniform colors, design elements including logos, lettering, numbers, team names, sponsor logos, etc. directly into the fabric. The design is permanent, and actually becomes part of the fabric, much higher quality than screen printing which will eventually wear and deteriorate.
CUSTOM TEXT
The custom text location allows 15 characters including spaces. The text is all on one line as shown in the picture. If you want the custom text area removed or blank please put "none" in the text area at checkout.
PRODUCTION TIMELINE
BUSINESS DAYS are Monday-Friday 8am-5pm PST
Standard production is 10 full business days, with shipping on business day 11. Production starts the 1st business day after "order date". If ordered after 5pm PST the "order date" will be the next business days.
Expedited production is 6 full business days, with shipping on business day 7. Production starts the 1st business day after "order date". If ordered after 5pm PST the "order date" will be the next business days.
SHIPPING TIME IS IN ADDITION TO PRODUCTION TIME
BE RIVAL WORTHY!!!
CAN I GET MY ORDER EARLY?
NO, these are made exactly according to the production schedule. We get numerous emails a day asking to get orders early due to an upcoming tournament or Birthday. We understand that everyone has something important in mind when ordering but we can't change our timeline.
WHEN WILL MY ORDER SHIP?
Please reference the above info or click here for more info.
SIZING INFORMATION
Please keep in mind that our chart is 99% accurate but there is always exceptions, it's based on average height and weight.
Parents of little athletes approx 55 pounds and lower the youth M might still be baggy. Young wrestlers barely into the sizing chart keep in mind that it made to also fit up to a 60 pound wrestler so depending on your wrestlers build it could still be too big. We always like to warn people due to the NO return policy.
Please click here for singlet measurements to determine if it will fit your wrestler.
DO YOU HAVE A YOUTH SMALL?
Currently our smallest size is a youth M. We often have parents tell us that they order a youth medium and have it taken in to fit.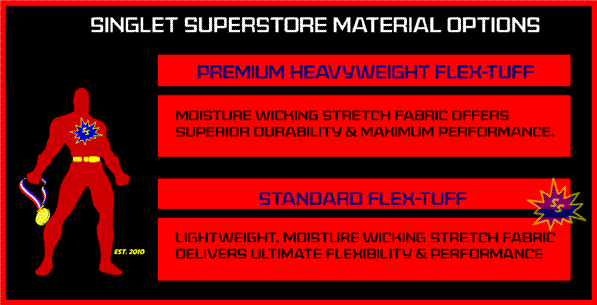 Standard material is NOT lower quality it's a lighter weight fabric.
Standard material has 20% spandex and premium has 8% spandex.
Leg grippers are a clear band inside the bottom band of the leg, this is to help prevent legs riding up.
We have found wrestlers by the age of about 12 and prefer NO grippers. The clear band can pull leg hair and once leg muscles are developed riding up isnt a big issue.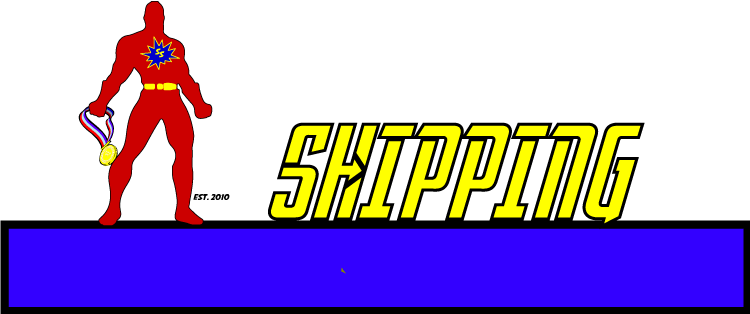 Tracking numbers are uploaded the first business day after the order ships.***
STANDARD SHIPPING
Standard shipping is UPS ground, 3-5 business days. This is the only shipping option available to Alaska and Hawaii.
EXPEDITED SHIPPING
Expedited shipping is UPS 2 BUSINESS day shipping, this doesn't include weekends and holidays. This service is NOT offered to Alaska or Hawaii residents.
We do not ship to P.O. boxes, APO's, or outside the US (check our ebay store for global shipping), we require physical address for all orders. Often PO box customers use their local UPS store address.

We have great team pricing, click HERE for team info. The pricing will not automatically adjust for the team discount, if you want to order 5+ email us and we can send you an invoice.
CAN I CHANGE THE GRAPHICS OR COLORS?
We apologize but with our fast production, no minimums this is not an option. We do offer fully custom singlets you can purchase if you need more customization.
CAN I CALL IN MY ORDER?
No, orders must be placed online. This takes out human error that can happen by us writing text down vs imputting it online by the customer
RETURNS
We apologize but there is NO returns, exchanges, or refunds on items that don't fit.
Please click here for more info on returns
BE RIVAL WORTHY!!!
donut singlet:
God is my coach singlet:
MASCOT:
Mustang singlets:
mustang wrestling singlets:
religious singlets:
tiger :